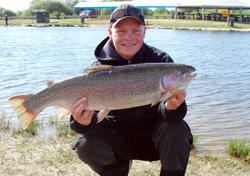 Fisk & Fri's put and take-redaktør Casper Larsen med en regnbueørred man sjældent finder så smuk i de danske vande.15.3.2011 – ISEN er i kraftig tilbagegang og sæsonen 2011 er ved at starte for alvor ved de danske put and take vande.
Igen i år har Fisk & Fri i samarbejde med Pure Fishing valgt at udlodde tre ABU Garcia rygsække fyldt med lækkert put and take-grej. Der er nye vindere hver måned. De største vinder chancer får du hvis du har fanget en flot, stor eller speciel fisk og sørger for at tage et godt billede af fisken ude ved søen, og til sidst laver en god fangstberetning.
Formularen for indsendelse af fangstrapporter finder du her på siden. Til sidst er der bare at sige knæk og bræk derude!