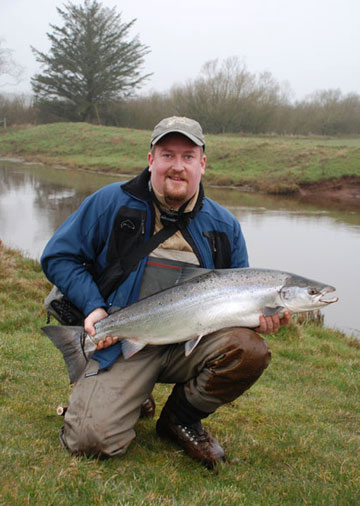 Lars Chr. Bentsen med en smuk fluefanget laks fanget tidlig morgen. FISK & FRI'S Lars Chr. Bentsen var med, da laksesæsonen i Varde Å blev skudt i gang. Han beretter, at åen bød på faldende vandstand og en fornuftig temperatur, og at forholdene i det hele taget næppe kunne have været mere optimale.
– Forventningerne var store til årets premiere i Varde Å, og forventningerne blev da også indfriet. Formand for Varde Sportsfiskerforening, Jørgen Bohnensach, fortæller, at der formentlig er fanget omkring 30 friske opgangslaks i løbet af dagen, men også at der er fanget flere nedgængere end sædvanligt. Foreningen vurderer, at der kan have været op mod 400 lystfiskere ved åen i løbet af dagen. Jeg selv havde fornøjelsen af at fange en af de første laks på dagen, slutter Lars Chr. Bentsen.
Følg med de næste dage på Varde Sportsfiskerforenings hjemmeside, og se hvad de kommende dage ved Varde Å byder på af fangster.