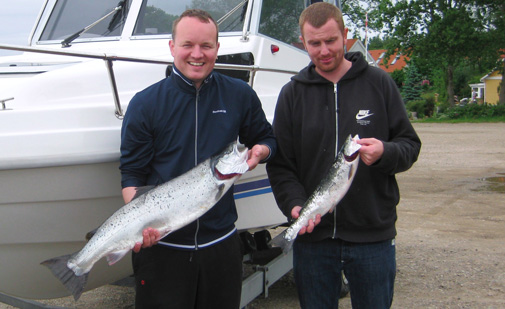 Carsten Smith (t.v.) fremviser sin store havørred fra Lillebælt på hele 7,2 kilo og 86 centimer. Martin Nielsen (t.h.) viser dagens næststørste havørred på 51 centimeter.
1.6.2011 – TROLLINGFISKERIET efter havørred i Lillebælt har givet helt utrolige fangster dette forår. To af de lystfiskere, der jævnligt dyrker trollingfiskeriet i bæltet, er Carsten Smith og Martin Nielsen fra Odense, og på deres seneste tur tirsdag den 31. maj lykkedes det dem at lande en af de helt store havørreder.
Denne gang fiskede de to trollingfiskere fra klokken 6 om morgenen, men først klokken 9 kom der gang i fiskeriet. To havørreder på lidt over målet kom i båden, hvorefter der kom et ordenlig hug på den ene stang, der fiskede med et Apex-blink. En hård fight på 35 minutter kunne nu begynde, og fisken tog mange, lange udløb samt gik fri af vandet en enkelt gang. Fighten endte dog i sidste ende ud til Carstens fordel, og de to kammerater kunne lande en imponerende havørred på hele 7,2 kilo og 86 centimeter! Havørreden satte ny bådrekord samt en ny rekord for besætningen.