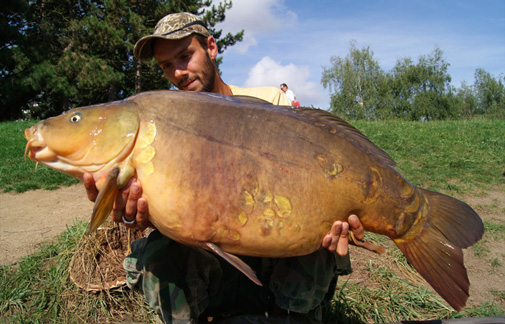 Julien Diconne fra det franske Prologic-hold har haft stor succes med karperne på det seneste – her med en flot spejlkarpe!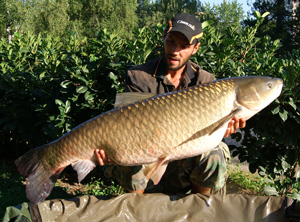 Også de store græskarper Julian Diconne måtte for en kort stund på land for at posere foran kameraet.22.8.2011 – JULIEN DICONNE, der er medlem af det franske Prologic hold, har haft et rigtigt godt fiskeri efter karperne på det seneste.
I sidste uge havde han en fantastisk fire-dages tur i et svært fransk vand, og her lykkedes det ham at lande 34 fisk! Heraf var der 14 græskarper fra 15 kilo til 18,5 kilo samt en på 19,5 kilo og 22 kilo! De to største skælkarpe vejede 15,5 kilo og 15,7 kilo og den største spejlkarpe var en flot two-tone på 18,2 kilo! Alle fiskene kunne ikke stå for de hjemmerullede Crustacean boilies på 20 mm og 26 mm fra DD Bait.
For yderligere et par uger siden havde Julian endnu en tur.. Denne gange var han afsted på en tre-dages tur til et stort vand med et stort fiskepres med en bestand af skeptiske karper, der er svære at overliste. På trods af dårlige vejrforhold lykkedes det alligevel at lande tre karper – to skælkarper på 11 kilo og 13 kilo samt en smuk spejlkarpe på 16 kilo – endnu en gang på DD Bait Crustacean boilies.