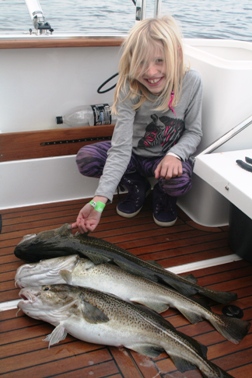 På billedet ses Sara Koldtoft, som fik sin største fisk nogensinde med en torsk på små 6 kilo – for øvrigt sammen med et par andre rigtig gode Øresundstorsk.
19-11-11 – MICHAEL KOLDTOFT og datteren Sara var den 6. november taget en tur på Øresund med håb om laks. De sejlede ud fra Skovshoved.
-Vi satte trollinggrejet lige uden for havnen og søgte nordpå mod Tårbæk rev og Lous Flak. Et par timer senere eksploderede fiskeriet i det helt stille vand. Der var hverken strøm eller bølger, men rigtig meget ålegræs i vandet, beretter Michael og fortsætter.
– Det hele startede med, at min ene sideplaner tog et voldsomt udløb mod bunden, og en tung fisk sad på. Den anden sideplaner gik, mens jeg fightede det første hug. Det viste sig at være to gode torsk på henholdsvis 6 og 8 kilo. Et par tunge fisk at hive ind på trollingstænger, pointerer Michael.
– De næste to timer stod vi med konstant fisk på side-planer-stængerne, og det var udelukkende store fisk med en gennemsnitvægt på 5-6 kilo. Alle fisk blev taget i vandoverfladen på sideplaner og Grizzlys Willy MAG uden belastning, slutter Michael Koldtoft fra Trolling Centrum i Tåstrup.