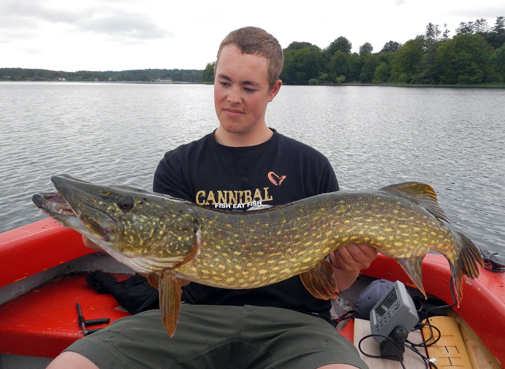 Mikkel Altmann med den længste af de to syvkilos gedder – 101 centimeter.19-06-2012 – DEN 12.-13. JUNI var Mikkel Altmann med forskellige makkere igen på Esrum sø for at fiske gedderne.
Den første dag var vandet klart som sprit, ingen vind og masser af sol. Svære forhold, men det lykkedes dem at få 10 gedder i båden med den største på 7,0 kilo fordelt på 95 centimeter.
Den anden startede med godt hug efter 25 minutter på Mikkels 25-centimter 4-play. Også den gedde vejede 7,0 kilo, men længden var 101 centimeter.
Alt i alt to kanondage på søen.