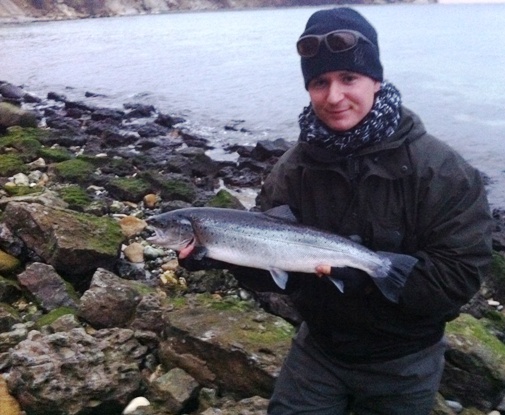 Nicolaj Kaas med sin nye personlige rekord for havørred på kysten – en flot Stevnshavørred på 2,6 kilo. NICOLAJ KAAS fra Kastrup har i løbet af de sidste par måneder frekventeret Stevns for at lære kystpladsen at kende. Og det med et flot resultat fra den 16. november, hvor han fangede en flot blank havørred på 2,6 kilo.
– Jeg har i de sidste to måneder forsøgt mig på kysten ved Stevns. Allerede ved første forsøg gav det mig og en kammerat en forrygende fiske- og naturoplevelse med tre havørreder over målet. Desværre blev vi ivrige, og vi tog derned igen hurtigt efter uden at have undersøgt vejrforholdene inden. Dette resulterede i en nultur, fortæller Nicolaj og fortsætter.
– Efterfølgende har jeg tænkt meget over de vejrforhold, der var dengang det lykkedes at få en fed tur. Derfor forsøgte jeg igen, under præcis de samme forhold som første gang, og denne gang holdt teorien stik. Efter en lang fisketur med flere hug og mistede fisk og kun én enkelt på land af min kammerat, som sågar var en undermåler, lykkedes det at få et hug i noget større kaliber.
– Fisken huggede i skumringen, da vi var på vej hjemad og gav en god fight – især da vi skulle til at nette den. Det viste sig at være min største havørred taget på kysten på 2,6 kilo og 60 centimeter til dato, beretter Nicolaj.
Havørreden huggede på en Toby Rocket.