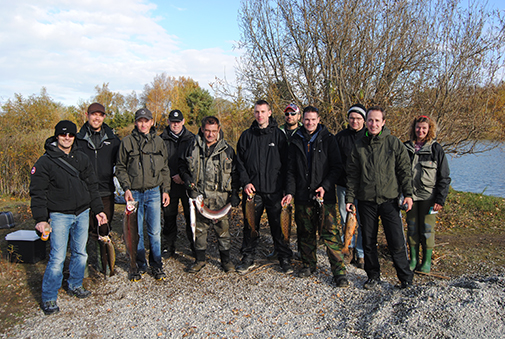 Vejret var helt fantastisk – faktisk så godt, men også koldt, at det første var i den sidste del af kurset at fiskene kom til hugget. Men der kom fisk på land!LØRDAG DEN 27. OKTOBER afholdt fisk & fri's Casper Larsen grundlæggende put-and-take-kursus i Simons put and take nær Gundsømagle.
Hvad der viste sig at være den flotteste morgen i mands minde, med rim i græsset og en sol der åd sig gennem mosekonesbryg, skulle vise sig at have lagt en gevaldig dæmper på fiskeriet.
Heldigvis vågnede fiskene i søen op til dåd, da der var knap halvanden time tilbage af kurset. Og så begyndte fangsterne rigtigt at vise sig.
Kursets 11 mand nåede at fange 14 fisk. Det var primært de nyudsatte bækørreder, der var i hugget, men enkelte regnbueørreder lod sig også overliste. Dagens topfisk blev en flot regnbue på 5,45 kilo fanget på en gennemløber af kursets yngste deltager. Godt gået!