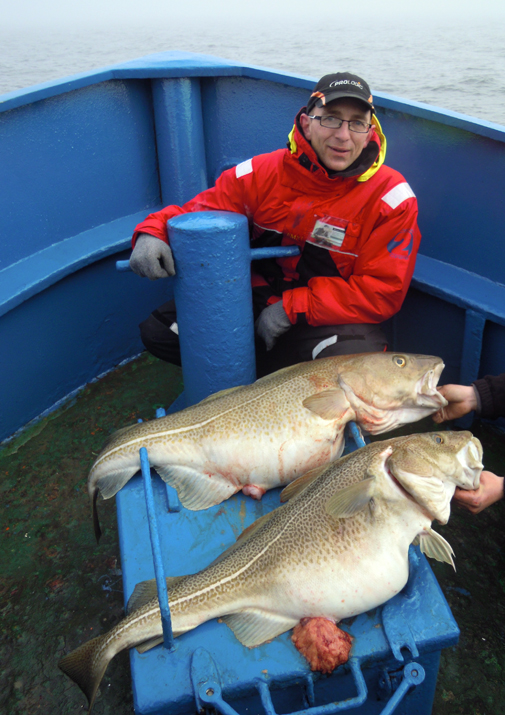 30 kilo torsk fordelt på to fisk på et hug. Hvilken oplevelse. Stort tillykke med den fangst – det er vist once in a lifetime, at det sker.MICHAEL KREUZ fra Odense var med Long Island på Langelandsbæltet den 26. marts, hvor det skulle blive til to gange personlig rekord – og så på samme tid oven i købet.
– Vi startede fiskeriet på 30 meter vand, hvor Dennis havde fundet gode buler. Pludselig får jeg et mega godt hug, og jeg kan godt se, at der er tale om en stor fisk.
– Jeg fighter og fighter, men der går et stykke tid før fisken kommer op til overfladen. Da vi ser fiskene 15 meter fra båden, bliver vi noget overrasket. Der er ikke bare én, men to store fisk, fortæller Micheal og fortætter.
– Vi får hurtigt fat i en ekstra gaf, og får dem sikkert i båden. Den "lille" smider ca. 3 kilo rogn, før vi får dem vejet, så den har nok vejet 15 kilo. Den store vejede 18,0 kilo, slutter Michael.
Der blev taget yderligere 130 torsk op til 8 kilo. Hvilken tur. Endnu engang slår Langelandsbæltet og Long Island til.