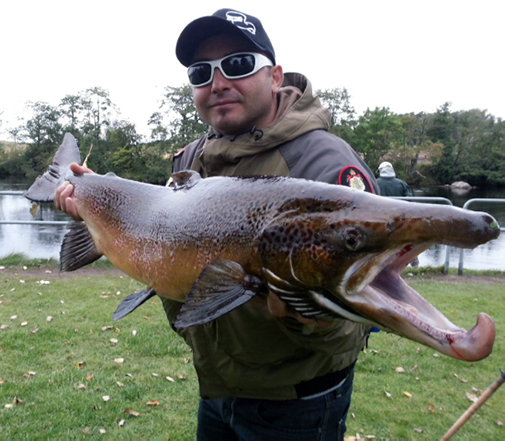 Robin Abrasevic med en flot farvet hanlaks på 8,0 kilo fra svenske Lagan. Alt i alt havde han en super dag ved elven i den 24. september med to laks på land og fire mistede.SIDSTE år havde vi i Fisk og Fri en artikel fra den svenske lakseelv, Lagan, som ligger i Vestsverige. Elven er et yndet besøgsmål for mange danskere. Netop nu er der masser af laks i elven, hvor sæsonen går på hæld.
Og i går fik vi en flot melding fra Robin Abrasevic, der sammen med et par kammerater er blevet faste medlemmer af den lokale foreningen i Lagan. Det betyder fiskeret til elven frem til midt i oktober. Denne uge er sidste uge for fiskere på dagkort!
Men i går lykkedes det for Robin at fange hele to flotte laks på spinflue med en 1" rørflue i farven rød-brun-sort.
Største var på 8,0 kilo – ifølge den opsatte vægt i indvejningsfaciliteterne i Lagan – efter fulgt af en laks på 5,0 kilo.
Udover det bød dagen på fire mistede fisk.