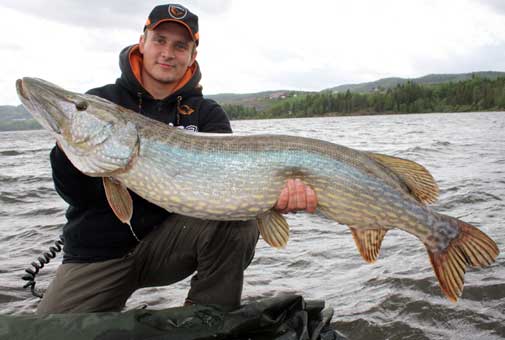 12,5 kilo vejede den 118 centimeter lange gedde, som Henrik S Lund fangede i Norge i den forgangne uge. Den blev fanget på en Alien Eel.
DE TO GARVEDE geddefiskere Henrik S Lund og Christian 'Jokeren' Møller var i den forgangne uge på endnu et udlandstogt med gedder for øje. Et stort norsk geddevand skulle gennemfiskes, og det skulle gå både godt og skidt. Efter blot en time fik Henrik et tungt hug på hans yndlingsagn – en Alien Eel, som blev trollet blot en meter bag en paravane på 1,5meter dybt vand.
En hektisk fight kunne begynde, og en stor fisk kastede sig efterfølgende fri af vandet flere gange bag båden. I sidste ende måtte fisken dog overgive sig, og Christian kunne nu hjælpe sin kammerat med at lande en monstrøs gedde på hele 118 centimeter og 12,5 kilo. Den store fisk blev fotograferet og genudsat under store jubelscener, men herefter var eventyret desværre slut. Et opkald fra det danske tvang de to til at indstille fiskeriet, og derfor blev 12,5 kilos fisken turens eneste.
Se eventuelt mere på www.savage-gear.com