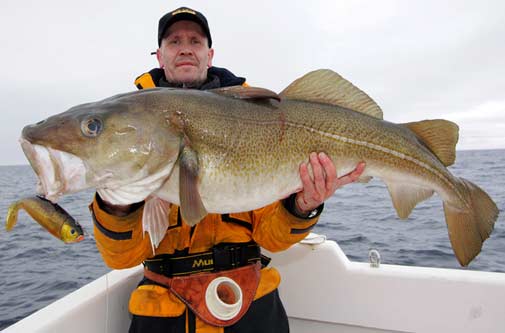 Robert Smith med den største af dagens utallige torsk – en fisk på imponerende 15 kilo. Den faldt for en Cutbait Herring i farven Red Fish.
ISLANDSKE ROBERT SCHMIDT blev bl.a. foræret en håndfuld Cutbait Herring jigs, da Gordon P. Henriksen sidste år besøgte Island. Det var meningen, at de to skulle have været ude og havfiske sammen, men et grimt uvejr gjorde, at planerne aldrig materialiserede sig. Robert havde dog kigget nysgerrigt i Gordons grejæske og fået lov at nuppe lidt forskellige jigs.
Nu er den islandske havfiskesæson skudt igang igen, og Robert har netop været på årets første havtur. Her skulle han lige prøve Cutbait Herring agnene, som han var blevet foræret, og de gav pote i stor stil. Torskene var i hopla, og selvom det kun kunne blive til en meget kort eftermiddagstur, så væltede fiskene i båden. De to største fisk vejede henholdsvis 14 og 15 kilo, så Robert Smith var taknemmelig for det nye grej, og ser frem til en rigtig god sæson i de islandske farvande.
Se mere om fiskeri i området på dette link eller tjek Roberts blog her.