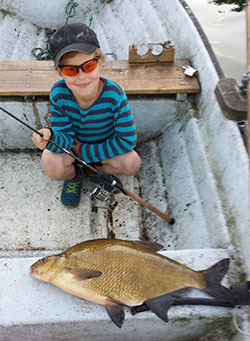 30-08-2013 – Den unge lystfisker Viktor fra Mors var i sidste uge på Hald Sø med sin far.
– Jeg var i sidste uge med min far på Hald Sø, fordi jeg gerne ville fange en søørred eller en brasen, fortæller Viktor på 7 år. – Vi fiskede med orm og prop og pludselig gik proppen under.
Jeg var jeg klar og gav modhug hvorefter en vild fight begyndte. Fisken kæmpede helt vildt og var under båden tre gange. Da fisken endelig kom i båden var jeg mega stolt over selv at have klaret hele fighten, som tog lang tid.
Efter at have fanget en Brasen på 70 cm og 3,7 kg var jeg træt i armene. Jeg sad og tvivlede på at der var flere fisk af denne størrelse tilbage i søen, da proppen forsvandt og jeg med trætte arme kunne fighte endnu en stor fisk. Det var endnu en Brasen på over 3 kilo. Det var den vildeste tur på Hald Sø, slutter Viktor stolt.