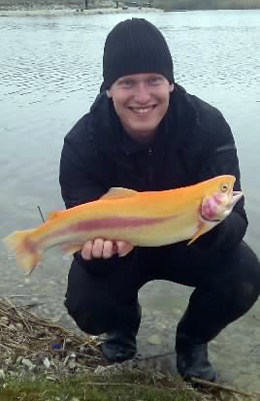 Martin Knudsen med sin guldørred nummer to på fire år. Denne på 2,3 kilo leverede en fight med flere "luftture", før den var landingsklar.
03-05-2012 – I GÅR KUNNE vi berette om Kurt Knudsens første bækørred i 50 år. Der efter kom denne beretning i, hvor sønnen Martin Knudsen, der også var med i Hove put and take, får sin anden guldørred inden for fire år.
– Min powerbait lå og flød på overfladen et godt stykke ude, og pludselig lød der et ordentligt plask og bremsen på mit hjul begyndte at hvine. Fisken var fri af vandet et par gange og efter en udramatisk fight kunne vi fælles nette min guldørred på 2,3 kilo, slutter Martin.
En guldørred i denne størrelse er stor nok til at udløse en bronzenål i vores storfangerkonkurrence.