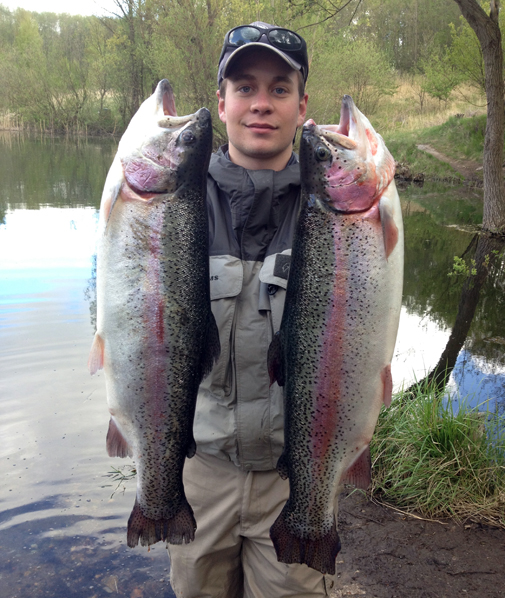 St. Rosenbusk skal bestemt besøges igen, mener Thomas – hvilket ikke er noget at sige til med det flotte sæt på 6,0 og 5,7 kilo, som han står med her.
25-05-2012 – THOMAS RØNSHOLDT fra Århus fortæller at første stop var Simons Put and Take den 5. maj, hvor det blev til fem ørreder – den største på 5,5 kilo som Morfar var garant for.
Dagen efter var der afgang igen til et nyt vand.
– Vi havde hørt, at der skulle være sat store fisk ud i St. Rosenbusk og da vi ikke før havde været ved søen besluttede vi at tage der til, fortæller Thomas.
Fiskeriet var trægt til at starte med, men de fandt en stime fisk der trak rundt i en lille bugt med lidt læ.
Og så lykkedes det med splithagl og Powerbait at over liste en flot fisk på 6,0 kilo efterfulgt af en yderligere på 5,7 og en slutteligt en på knap to kilo.