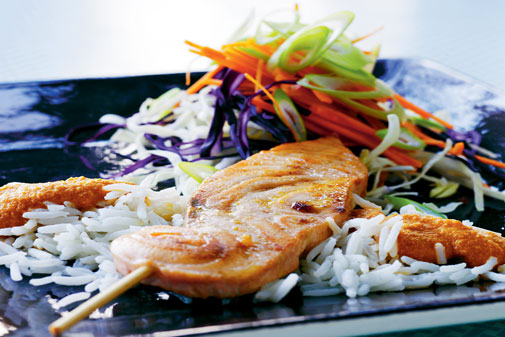 Lakse-satayspyd med jordnøddesauce. Find opskriften på www.2gangeomugen.dk 15-02-2008 – SPIS FISK TO GANGE OM UGEN og bliv et sundere menneske, lyder det fra Fiskebranchens Oplysningsudvalg, som står bag hjemmesiden www.2gangeomugen.dk. Hjemmesiden fylder to år i år og der gennem de seneste år har vejledt danskerne i en sundere livsstil med fisk som omdrejningspunktet. På hjemmesiden findes der både madopskrifter og gode kostråd, som kan inspirere alle til at bruge mere fisk i madlavningen samt leve en sundere livsstil. Selvom mange danskerne allerede har taget initiativet til sig, er anbefalingen om en daglige indtagelse af 200-300 gram fisk om dagen, stadig et mål der sigtes efter. Derfor lancerer 2gangeomugen.dk en konkurrence, der skal skabe yderligere opmærksomhed om at spise mere fisk, samtidigt med at du kan vinde en rejse for to til Thailand. Samtidigt kan du også få inspiration til madlavningen derhjemme med opskrifter fra det Thailandske køkken.
Læs mere om konkurrencen her.
Få mere inspiration til fiskeopskrifter på Fisk og Fri's egen hjemmeside her.