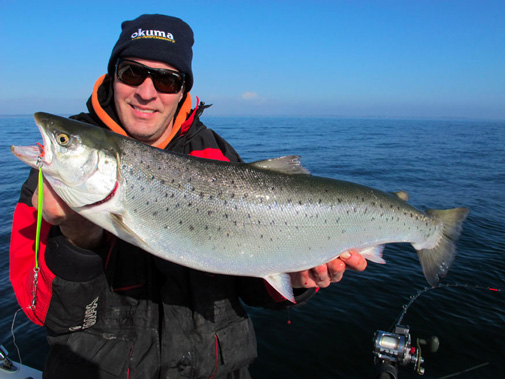 Mads Grosell med et ægte stykke sølvtøj på hele 4,9 kilo. Fisken tog et Savage Gear Herring Spoon blink under trollinfiskeri på Øresund.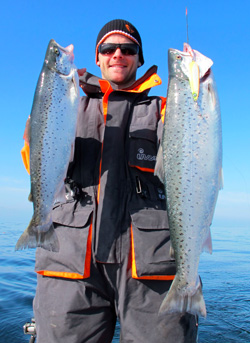 Sune Nordberg med to flotte havørreder på over 60 centimeter!22.3.2011 – MADS GROSELL og Sune Nordberg havde en hjemmelig triumf på Øresund søndag den 20. marts. Her fik de to lystfiskere endelig hul på bylden med et fantastisk havørredfiskeri!
På sundet mellem Danmark og Sverige trollede Mads og Sune med Savage Gear Herring Spoons og det nye Flatjack trollingblink i farverne Lemon Back og Firetiger. Fangsterne udeblev bestemt heller ikke, og i løbet af dagen kom hele seks sølvblanke havørreder i båden – alle mellem 60 og 75 centimeter med tre fisk over 4 kilo! Den største havørred var et pragteksemplar på hele 4,9 kilo!
Ud over de fine ørreder var der også godt 30 torsk oppe at vende i båden.