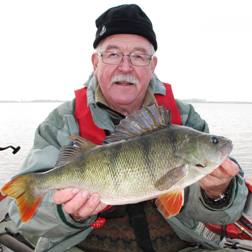 Her det Jørgen Christensen med turens største aborre på 1,55 kilo. Af Jørgen Christensen
VORES LOKALREDAKTØR på Vestsjælland var forleden ude med snøren.
-Den 14. november skulle jeg vel egentlig have været til afslutning ved åen. Sådan blev det ikke og jeg drog i stedet på Tissø i det flotte efterårsvejr, fortæller Jørgen og fortsætter.
– Det blev en dejlig dag med i alt seks gedder op til 4 kilo og 22 aborrer med hele fire stk. over kiloet. Jeg fangede den største på 1,55 kilo, og vi havde yderligere fisk på 1,3 og to styk 1,25 kilo i båden, slutter Jørgen Christensen.