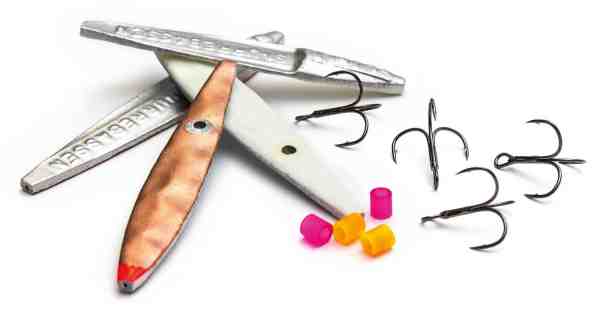 Fisk & Fri giver dig nu mulighed for at tegne et halvårsabonnement – samtidig med at du får fire specialmalede eksemplarer af den unikke nye Snurebasse Slim, som endnu ikke kan købes i butikkerne – samt tilhørende trekroge S-21 str. 6 fra Owner.
Snurrebassen Slim er den nye super slanke udgave af storfangeren Snurrebassen. Gennemløberen kaster eminent, og har en florlet, flaksende gang samt perfekt rotation om sin egen akse.

Det nye superblink egner sig lige så godt til fjorden som det lette fiskeri på den åbne kyst. Du får to str. 1 på 12 gram og to str. 2 på 17 gram. Hver størrelse får du i to farver – kobber/rød med aluminiums bagside, som er en sand killer til efterårsfiskeriet – samt hvid/aluminium, der er en super diskret naturalistisk allround farve, der fisker godt i både klart og uklart vand.
Blinkene er støbt i blyfrit hvidmetal G.Blinkene leveres med Owner ST-21 trekroge, der med sin tynde wire passer perfekt til de lette blink.
Tilbuddet er for længst udløbet, men se denne måneds abonnements-tilbud på Fisk & Fri HER