Hans Henrik fra Tårnby, som i martsnummeret af Fisk & Fri kunne ses med nogle flotte fangster fra Simons, har været ved søen igen. Den ihærdige fisker har sendt os denne fangstrapport.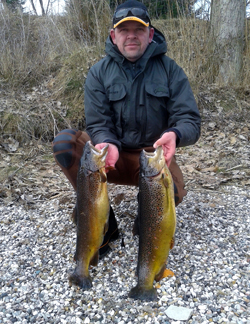 -Så kom der endelig lidt varme til Danmark og jeg var selvfølgelig en tur i Simons Put And Take, fortæller Hans og fortsætter. -Jeg fik hurtigt hug og op kom en flot fisk. Jeg fik yderligere to fisk i rap før der faldt ro på.
Jeg riggede om til klar Powerbait, i håbet om at det ville få dem i tale –og det hjalp. Jeg var gået et stykke væk fra stangen da hugget faldt, så jeg måtte løbe tilbage til stangen og fighte fisken ind. Kort tid efter kunne jeg lande en flot bækørred på 3,14 kilo og 64 centimeter, slutter Hans og tilføjer at han yderligere fik tre bækkere og en regnbue.