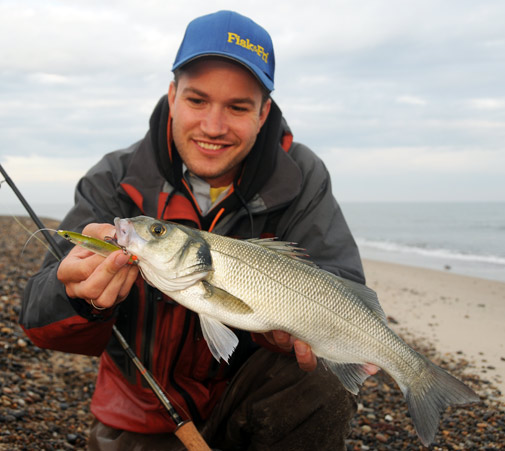 Gordon P. Henriksen har i flere år drømt om at fange en havbars. Denne sommerferies familierejse til Thy resulterede i seks af slagsen – og en tilfreds fisker! SÅ ER FISK OG FRI TILBAGE FRA SOMMERFERIE. Det har været tre dejlige uger for Redaktionen, som har haft en lille pause fra bladproduktionen. Vores ferier er tilbragt med familierne, men der er selvfølgelig også blevet tid til en masse fiskeri. Vi har bl.a. været på Bornholm, Nordjylland, Frankrig, Nordsjælland og flere andre steder, hvor der er landet ørreder, gedder, hornfisk, karper, aborrer og meget mere. Bl.a. lykkedes det redaktionschefen Gordon P. Henriksen at fange en fin stribe havbars. Dette har længe været en drøm for sjællænderen, der ikke lige er vant til at have dem i nærheden. Men en sommerferie i Thy i Nordjylland gjorde udslaget. Går du også og er lidt småbesat af den sjældne havbars, så tjek august udgaven af Fisk & Fri, som rammer butikkerne i netop disse dage. Her kan du læse et interview med en af landtes mest passionerede havbars fiskere, Erik Simonsen.
Fisk & Fri´s chefredaktør, Jens Bursell, har også haft et fint fiskeri i sommerferien med bækørred op til lidt under to kilo, og gedder op til 11,2 kilo – taget på de kæmpespinnere, som du også kan læse om i augustnummeret af bladet.
Men nu er vi tilbage bag skrivebordet, og vi ser frem til at modtage fangstrapporter på alle de fisk, som vores læsere har fanget i løbet sommerferien.
Fortsat god sommer – Redaktionen