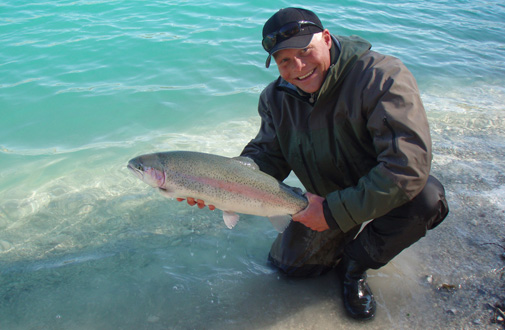 Fisk & Fri's Casper Larsen oplevede et godt fiskeri efter regnbueørreder i den smukke Karstrup Kalkgrav.
5.5.2011 – CASPER LARSEN, der er Fisk & Fri's put and take-redaktør, var den 1. maj på morgenfiskeri efter ørreder i den smukke Karlstrup Kalkgrav. Her kommer Casper med en beretning om turen.
– Klokken var lige passeret 5.00 da vi ankom til kalkgraven, fortæller Casper. – Dagen bød på premierefiskeri og en ny sæson skulle dermed skydes i gang, så det var med at være tidligt ude. Fiskeriet var super godt lige fra morgenstunden, og der blev fanget godt med fisk flere steder i søen. Først daa solen for alvor fik fat døde fiskeriet ud, og der skulle et pladsskifte til før der atter kom gang i fiskeriet. Det hjalp gevaldigt, og vi fandt endnu en stime hugvillige fisk. Dagens tur varede kun fem timer, men alligevel lykkedes det os at fange en del flotte fisk, og jeg fik to af slagsen på henholdsvis 3,75 kilo og 4,5 kilo, slutter Casper.