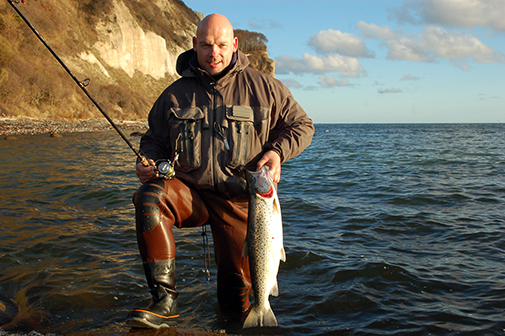 Jacob Mark Sørensen med sin personlige rekordhavørred fra Møn – 4,1 kilo fordelt på 68 centimeter.30-10-2012 – DEN 27. oktober var Jacob Mark Sørensen taget til Skilterevet. Med sig havde han makkeren Bombarda Claus, fortæller Ken Sørensen. De to gutter var allerede starte dagen før, hvor de fik fire havørreder – hvoraf den ene måtte lade livet.
– Lørdag morgen var en super morgen. Jeg fik to gode hug på flue og fire på spin – men ingen fisk på land. Bombada Claus fik også to hug på Bombada og flue naturligvis, men Jacob var klar. Han fik fem havørreder på bombada og flue – med en ny personlig rekord fra Møn, en havørred på 68 centimeter og 4.1 kilo, fortæller Ken.

Fra nu og indtil 1. november har alle indsendte fangstrapporter chancen for at blive vinder af Fisk & Fris Kaffe Cup. Vinderen, som kåres på www.fiskogfri.dk den 1. november, får 12 pakker af den nye feinschmecker instant kaffe – Millicano fra Gevalia. De indsendte fisk deltager også i Fisk & Fris øvrige konkurrencer.