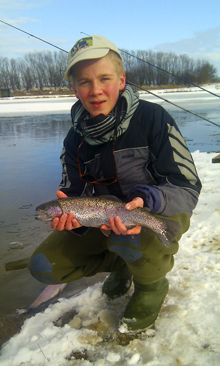 I den forgangne weekend var Mathias Kristiansen på 14 år og hans ven Anders taget en tur i Ørsted P&T, for at prøve lykken med de hårdtkæmpende regnbueørreder søen huser. Med sig havde de to unge lystfiskere Anders far.
-Vi havde trodset den evigt varende vinter og det kolde vejr, for at tage en tur Ørsted P&T, fortæller Mathias. -De første to timer skete der ikke meget, vi havde vi ikke fundet opskriften til endnu.
Senere på dagen skiftede vi til noget hvid Powerbait fisket på bunden og så ændrede det sig hurtigt.
Jeg endte med tre fine fisk. Alle under kiloet, slutter Mathias.