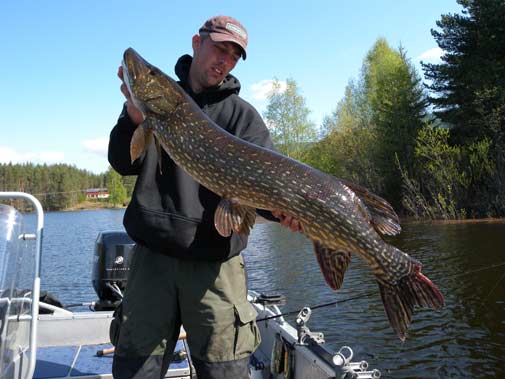 Lars Soefort med en velnæret norsk gedde fanget på en Westin Jätte 170mm.
DE TO DANSKE GEDDEFISKERE Bjarne Nielsen og Lars Soefort var i slutningen af maj på en tredages tur til en Norsk sø. Fiskeriet var egentlig ret vanskeligt, men da først de to garvede fiskere fandt de rette agn og den rette teknik skulle de opleve noget fiskeri, som var helt i særklasse. I alt fangede de 17 gedder over otte kilo, og ud af dem var de 12 over ni kilo. Største fisk var en pragtgedde på 11,1 kio.
I Fisk og Fri's online artikelarkiv kan du finde en artikel om geddefiskeri i Norge – en artikel, der oplister og beskriver en masse spændende storgeddevande. Læs artiklen her.