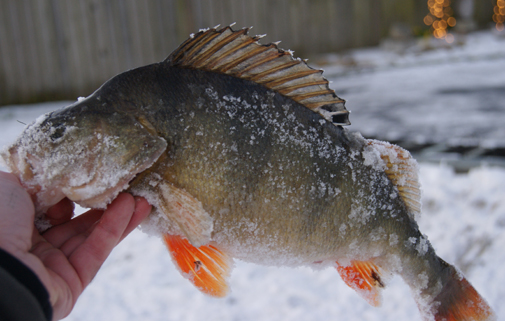 Her er det dagens største aborre på 1,1 kilo i sneklædtdragt. Per Christensen fangede fisken i Ryå på en jig.PER CHRISTENSEN FRA HALS tog til Ryå den 31. januar på et aborresats. Solen skinnede, så troen på mulighederne var der, fortæller Per.
– Jeg havde fisket i to timer uden at mærke det mindste nap. Forventningerne var ikke så store efter at have fisket de faste pladser af. Jeg bestemte mig for et pladsskifte, og så kom der gang i fiskeriet, fortæller Per og fortsætter.
– På en time havde jeg ni fisk på land. Alle fanget på jigs. To fisk blev hjemtaget, resten genudsat. En god dag med godt vejr og is i øjerne, slutter Per.
Dagens største aborre var et eksemplar på 40 centimeter og 1,1 kilo.