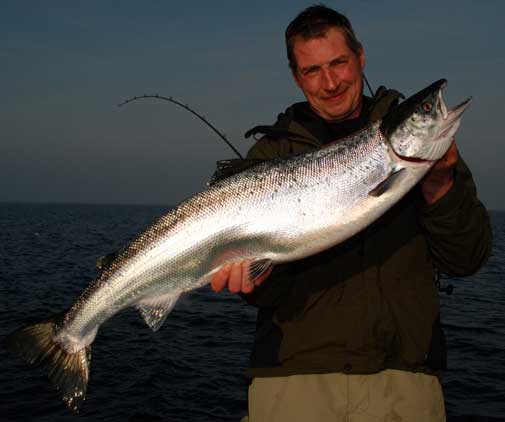 John med en fantastisk 12,4 kilos Møn laks. Fisken blev fanget på en Flat Jack i farven YG Silver.
SØREN LARSEN og kammeraten John var i den forgangne weekend en tur på Møn. Her søsatte de båden og stævnede ud for at sætte agnene. De to trollede ude over dybere vand, og humøret var i top fra start. Fiskene var der, men der skulle gå et stykke tid, før de to rigtigt fik hul igennem. Ganske vist havde de to et rigtig godt hug allerede fra start, men denne fisk – en laks på 10+ kilo – vristede sig fri umiddelbart inden netningen.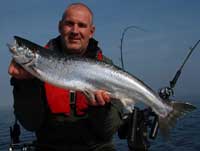 Søren med sin flotte fem kilos laks, som blev kompensation for en 10+ kilos fisk, der lige forinden havde vristet sig fri på netrammen.Heldigvis skulle både Søren og John få revanche i løbet af dagen. John fik nemlig en flot fem kilos laks på hans Flat Jack, og senere blev det Johns tur med en fisk på hele 12,4 kilo.
Også denne fisk huggede på en Flat Jack, og med sine fantastiske sølvblanke flanker og imponerende fysik satte denne fisk et fint punktum på en dejlig dag ved Møn.
For mere info, se www.savage-gear.com