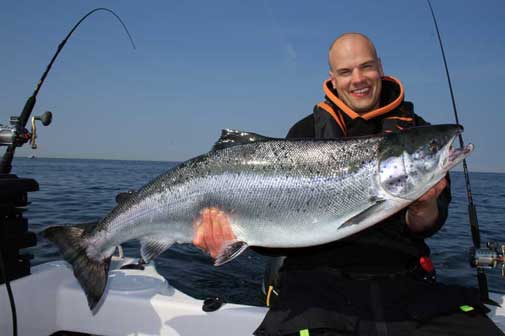 Christian Møller med én af turens største fisk – en fabelagtig smuk laks på den gode side af 10 kilo, som faldt for en Herring Spoon fra Savage Gear.
CHRISTIAN MØLLER og Henrik S Lund oplevede for nyligt et helt fantastisk fiskeri i farvandende syd for Møn. Her trollede de to garvede herrer en dag, hvor alt gik op i en højere enhed. De to fandt stimer at hugvillige laks, og i løbet af dagen krogede og landede de ikke færre end 14 laks, hvilket må siges at være noget af en bedrift!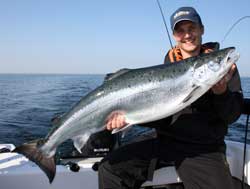 Henrik S Lund med turens største laks – en fisk på hele 11,5 kilo. Denne fisk blev, ligesom de resterende 13 laks som turen gav, fanget på et Herring Spoon blink. Fiskene var i fantastisk kondition, og hovedparten af dem var fra fem kilo og opefter med nogle kompakte og super-stærke 10+ kilo fisk iblandt. Henrik S Lund fangede dagens største, en sølvblank sag på 11,5 kilo, der ligesom resten af dagens storfangst, blev overlistet af et Herring Spoon blink fra Savage Gear.
For yderligere informationer se her: www.savage-gear.com