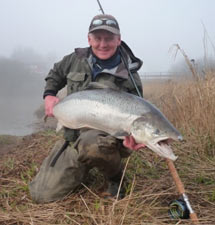 Så er det officielt. Dette er Dk-rekorden i fluefanget laks. KIM B. JAKOBSENS fantastiske laks fra Storåen er netop blevet godkendt som Dk-rekord i fluekategorien. Det samme gælde Morten Wølcks havørred på 12,7 kilo fra Karup Å. Fisken kan ses her.
Vi kan vist roligt være stolte over to så flotte fluerekorder er sat her i 2009. Kim vandt i øvrigt Fly Only for sin fisk og Mortens havørred er p.t. tilmeldt. Se mere om Fly Only her.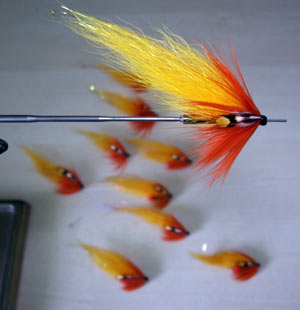 Her er en af Kim Jakobsens fluer af Beiss typen. Det var sådan en her der gav ham DK-rekorden, hvis du skulle have lyst til at binde en.
Mønster: Fire vingelængder i farven sunburst dertil et rødbrunt hackle både før og efter vingerne. Fluen afsluttes med et par jungle cocks.