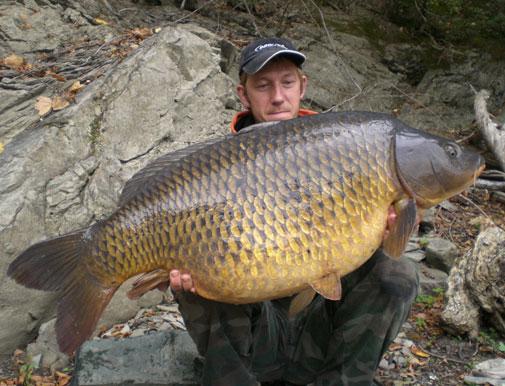 Italienske Williams Baccaloni med en 21,7 kilos november-karpe fanget i en dyb og klarvandet italiensk sø. 18.12.09 – NOVEMBER måned skulle vise sig at blive en forrygende god måned for – et medlem af det italienske Prologic Team. Han fiskede en række lokale vande med god dybde og klart vand, hvor han vidste, at der var store fisk. Han fiskede med to stænger og brugte DD's Readymades F4 Crustacean 24mm boilies som agn fisket på 12-15 meters dybde.
På én og samme nat fangede han to skælkarper over de magiske 20 kilo. Én på 20,3 kilo og én på 21,7 kilo. Ugen efter landede han i et helt andet – men lignende – karpevand to fisk på op mod 12 kilo, og til allersidst kronede han indsatsen med en fantastisk 23,7 kilos spejlkarpe, der huggede klokken 3:00 om morgenen under smukke, vindstille forhold.
Se eventuelt mere på www.prologicfishing.com.