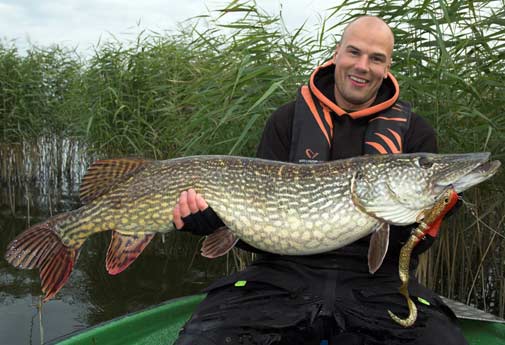 Christian Møller med en 10,5 kilos gedde fra et nyt vand, som den dygtige fisker aldrig havde besøgt før. Fisken blev fanget på en Alien Eel dørget bag båden.
EFTER EN NORGESTUR, der nærmest druknede i regn, var der oprejsning i luften for Christian Møller – også kendt som Jokeren. Sammen med en kammerat tog han på en geddetur til et nyt dansk vand, hvor han havde mistanke om, at der kunne være nogle fine gedder. I og med, at de to ikke kendte vandet på forhånd, valgte de at dørge store 4Play wobblere og Alien Eels bag båden for at få afsøgt noget vand. Den taktik skulle vise sig at være fornuftig, for i løbet af dagen havde de to fiskere i alt kontakt med 34 fisk, og ud af dem lykkedes det at lande i alt 26.
Største gedde faldt for en Alien Eel, og den vejede 10,5 kilo.
Se eventuelt mere på: www.savage-gear.com