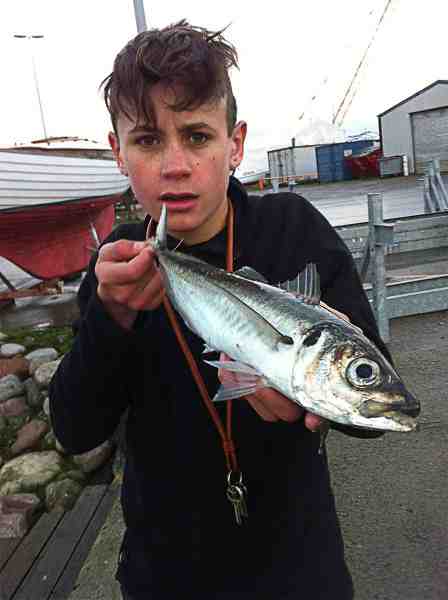 Magnus Gorski fra Aarhus var den 19. November en tur på havnen efter sej og torsk med deres UL-grej.
– Min ven Hamza og jeg var en lille hyggetur ned på Aarhus havn, for at kæmpe med lidt sej og torsk på ultralet grej, fortæller Magnus. – Min ven skulle have hjælp til at afkroge en fisk, og jeg havde lige lavet et langt kast, så jeg hev mit blink hurtigt ind, og pludselig kom der en kæmpe trykbølge bag det lille blink, og fisket klappede om blinket.
I starten troede jeg bare det var en stor sej, men da den kom længere ind, kunne jeg godt se at det ikke var en fisk jeg have set før. Min ven landede den for mig, og jeg var helt oppe at køre.
Da jeg kom hjem og fandt ud af at det var en hestemakrel, og blev klar over hvor usædvanlig en fangst det var så langt inde – og så på denne årstid, slutter Magnus Stolt og tilføjer af fangsten kun var 120 gram fra Danmarksrekorden.