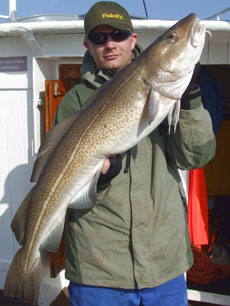 Casper Mølgaard med en af de mange flotte torsk, som han og det 18 mand store hold af havfiskere fangere den dag, de tog ud fra Hitshals Havn med M/S Fio. 29.04.09 – ET HOLD PÅ 18 MAND var for nyligt på årets første havtur arrangeret af www.havfiskeren.dk med Casper Mølgaard i spidsen. Turen var en 22 timers kombineret vrag- og pirketur med skibet M/S Fio som udgangspunkt og Hirtshals som udgangshavn.
Turen bød udover et fint og sommerligt vejr også på et væld af fisk i rigtig pæne størrelser, heriblandt torsk, lange, havkat og fladfisk. Nogle af de allerflotteste fangster var en torsk på 11,5kilo, en havkat på 4,4kilo og en rødspætte på 1,6kilo.
I perioder gik fiskeriet rigtig stærkt, og i løbet af blot to timer blev det til mere end 100 flotte torsk i størrelser mellem to og syv kilo. Så mon ikke de gæve fiskere har været godt trætte og ømme i armene ovenpå denne fantastiske dag på havet?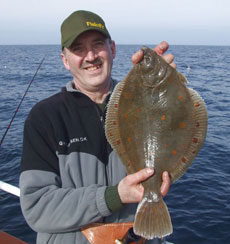 En prægtig rødspætte på hele 1,6kilo. Udover de flade og toskene, blev der også fanget rigeligt med havkat og langer.
Du kan læse en mere udførlig turberetning og se flere billeder på www.havfiskeren.dk