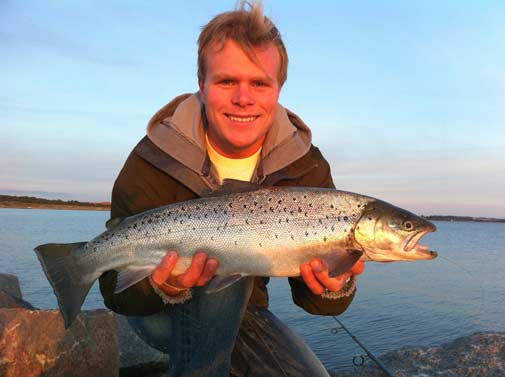 Alexander Wiklund med en skøn 2,7 kilos fisk fanget på et Magic Minnow "Sømmet".
I MIDTEN AF SEPTEMBER slutter havørred sæsonen i Sydsverige og den svenske del af Øresund, og i løbet af sæsonens sidste uger har Kinetic produktudvikleren Elias Narvelo haft et par fremragende ture.
Hans første tur var en aftentur til Øresundskysten sammen med Alexander Wiklund. De fiskede begge med Magic Minnow 28 grams Søm i farverne "Sinking Wedding" og "Mad Tobis". På et tidspunkt ramte deres agn vandet stort set samtidigt og utroligt nok virkede det som om to flotte ørreder havde synkroniseret deres angreb. Nærmest i munden på hinanden kunne Elias og Alexander råbe: "Så er der fisk!", mens deres stænger fleksede sammen.
Den største af de to ørreder blev tabt kort efter, men det lykkedes for Alexander at lande den fisk, han havde kroget – en fin fisk på 2,7 kilo. I alt lykkedes det for de to at lande 4 ørreder op til 2,6 og 2,7 kilo.
En uge senere var Elias atter på kysten efter ørreder. Og endnu engang var der interesse for Sømmet. Denne gang var det en flot efterårsørred på 3,3 kilo.