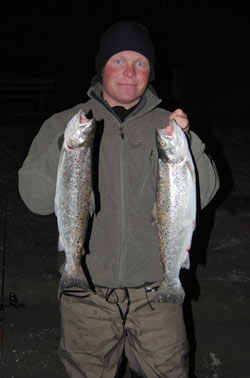 I går aftes drog Fisk & Fris P&T skribenter, Casper Larsen og Nikolaj Kolding ud på mission havørred.
I lidt uvante rammer lykkedes det de to at opstøve et kystfiskeri, der mindede om et sandt P&T scenarie, da der hele tiden var bud efter deres fluer.
5 timers fiskeri gav ikke mindre end 20 havørreder til Casper og 8 til Nikolaj. Halvdelen af de fangede fisk holdt målet, så det er en plads, der skal prøves igen snart af de to P&T drenge!
De to skønheder på billedet blev taget med hjem og står på menuen en af dagene.