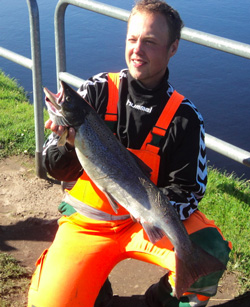 Gert Rasmussen oplevede et godt fiskeri i Lagan – her med en flot laks.21.9.2011 – GERT RASMUSSEN og Torben Storm er netop hjemvendt fra tre dages lakse- og havørredfiskeri i den svenske elv, Lagan. Her oplevede de to fiskekammerater et godt fiskeri med i alt fem laks og en flot, spejlblank havørred.
Det den første tur i det svenske for Gert, der er bosat i Odense, men afgjort ikke den sidste! Tre dages spinnefiskeri gav i alt otte kontakter til Gert med fem landede fisk. To af fiskene blev genudsat, mens to laks på 2,25 kilo og 3,98 kilo blev hjemtaget. Derudover fangede Gert en vild, nystegen havørred på 3,25 kilo. – Havørreden var afgjort en fisk, jeg vil huske i lang tid fremover, tilføjer Gert i sin rapport til Fisk & Fri. Torben var knap så heldig som Gert, for han måtte nøjes med en laks på 3,9 kilo.
I augustnummeret af Fisk & Fri (nr. 6 – 2011) kan du ydermere læse en stor artikel med tips og praktisk information om laksefiskeriet i Lagan.