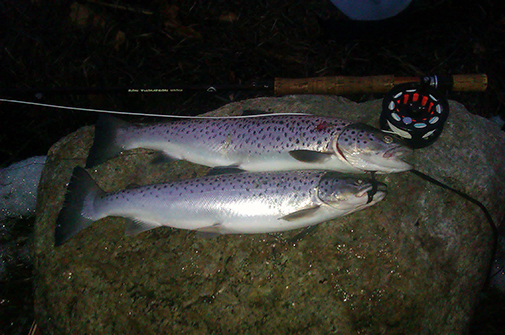 En flot duo til Jimmi Andersen fra Køge, der med en Polar Magnus overlistede to havørreder med fluen.
ALDER ER INGEN begrænsning når man kaster sig ud i lystfiskeri – heller ikke fluefiskeriet. Jimmi Andersen er 25 og er sådan set lige begyndt at fluefiske på kysten, fortæller han til Fisk og Fri. Den 15. november blev en dag som han set vil glemme.
– Jeg kom til pladsen kl. 14:30 og startede med at gå lidt ud. Jeg have kastet tre kast, da jeg fik den første. Der var gået nogle timer hvor jeg ikke mærkede noget. Jeg ville tage hjem, og imens jeg gik ind, kastede jeg nogle kast ind mod land. Og der var der en mere, der ville hugge. Det blev til to fisk og flue-PR fra kysten. Så stolt jeg er, slutter Jimmi Andersen.