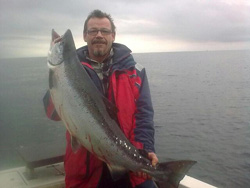 "Don Olsen" med en flot laks på 12 kilo fra Dueodde.26.11.10 – TROLLINGFISKERIET omkring Bornholm skuffer bestemt ikke for tiden, og der er meldt om gode fangster.
"Don Olsen" fik den 21. november en flot laks på 12 kilo, fanget ved Dueodde. Også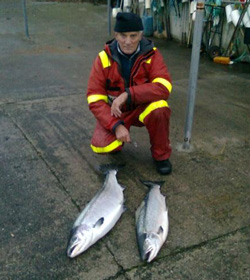 Erik Nielsen havde også godt gang i fiskeriet med to fisk i båden på samme dag!Erik Nielsen har haft held med fiskeriet med to laks på 9,8 kilo og 6,7 kilo fanget samme dag. Den ene på pladsen kaldet 11'eren, og den anden på Østgraven.
I nabolandets kendte trolling-havn, Simrishamn, er der ligeledes kommet godt gang i fiskeriet. Lørdag var der 20 både på vandet, og de havde et gennemsnit på 3,5 fisk per båd, hvoraf den største fisk blev noteret til 12,3 kilo.