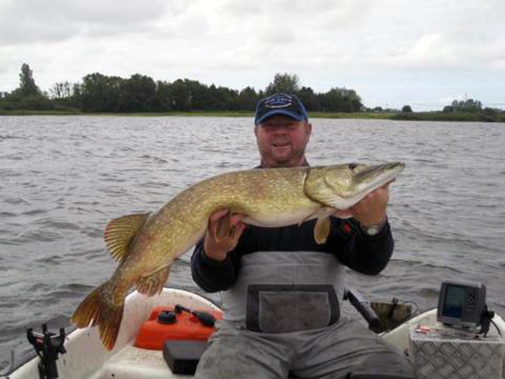 Ole Ganderup med sin vinderfisk – en gedde på 9,470 kilo, som han tog på Tissø.Af Jørgen Christensen
HØNG SPORTS FISKERFORENING havde i weekenden 1.- 2. september afholdt intern gedde-, aborre- og sandartkonkurrence. Der var i alt 11 deltager i konkurrencen, og alle 11 havde valgt at fiske på Tissø.
Vejret viste sig ikke fra sin bedste side, da det blæste meget begge dage. Fisk var der imidlertid, og den samlede fangst blev på 42 gedder og 90 aborrer. Den største gedde blev fanget af Ole Ganderup med en fin fisk på 9,470 kilo. Nummer to blev Jørgen Madsen med en gedde på 3,0 kilo.
Den største aborre fangede Jens Dinesen, som vejede 480 gram, nummer to blev Kurt Jørgensen med en på 460 gram og nummer tre blev Torben Christensen med en på 450 gram.
Der blev ikke fanget nogen sandart.