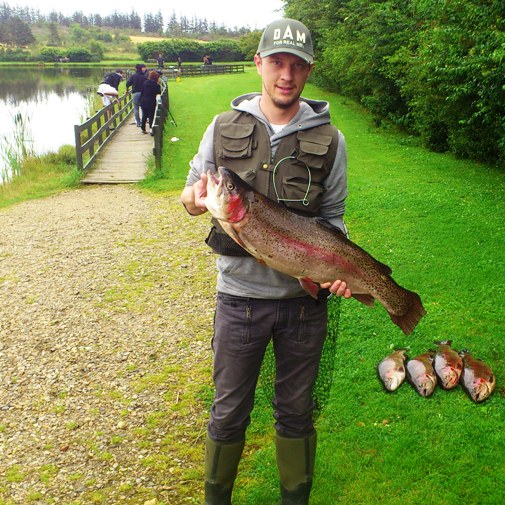 Jakob Akstrup Hedegaard med dagens største fisk på 7,3 kilo, som han tog på en Herningflue.
JAKOB AKSTRUP HEDEGAARD fra Holstebro tog tidlig morgen den 29. juli til Munkbro Put and Take for at svinge sin klasse 7 stang. For enden af forfanget havde han monteret et eksemplar af Herningfluen.
– Jeg så fisken gå ca. 20 meter ude i vandet og havde kastet efter den et par gange. Lige pludselig dykkede fisken og bang, så var der flex på stangen. Den tog tre hidsige udløb og efter en 5-10 min var fisken i nettet, fortæller Jacob.
Og op på land kom en stor regnbueørred på 7,3 kilo. Ikke nok med det – han fangede yderligere to flotte fisk på omkring 5 kilo stykket på selvsamme flue.