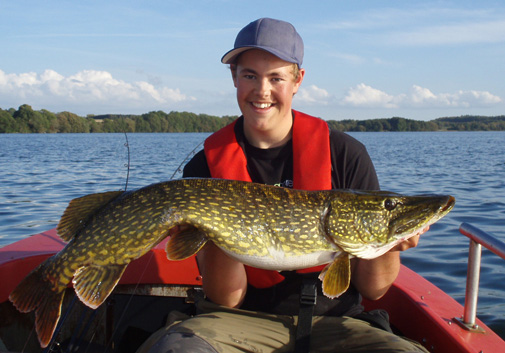 Mikkel Altmann og Frederik Schramm fik gevinst i et seriøst geddesats på Esrum Sø. Her er Mikkel med en god gedde på 7,1 kilo, fanget under dørgefiskeri med wobler.
14.9.2011 – DE TO IVRIGE LYSTFISKERE, Mikkel Altmann og Frederik Schramm, havde besluttet sig for at dedikere weekenden den 10. og 11. september til gedderne, og det må man sige de gjorde!
Vandet, der skulle fiskes, var Esrum Sø, og lørdag startede fint med fem mindre gedder op til 2,3 kilo i båden. Det blev der dog lavet om på senere på dagen, hvor de fangede en god gedde på 6,25 kilo, efterfulgt af endnu et par mindre fisk.
Søndag skulle fiskeriet vise sig at blive en del sværere. Efter adskillige timers dørgefiskeri med woblere uden at have set skyggen af fisk var Mikkel og Frederik lige ved at give op da weekendens største fisk huggede, en grov gedde på 8,1 kilo! Det gav blod på tanden, så de to fortsatte fiskeriet, og kort efter fik de endnu en flot gedde på 7,1 kilo – en perfekt afslutning på en god fiskeweekend med i alt 11 gedder i båden.