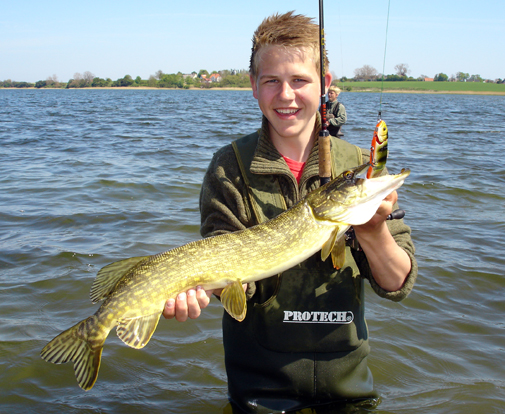 God tur med 17 gedder blev det til i går, da Nakskov Sportsfiskerforening var taget til Stege Nor for at udfordre brakvandsgedderne.SØNDAG den 20. maj afholdt Nakskov sportsfiskerforening en fisketur efter de populære brakvandsgedder i Stege Nor.
Deltagerantallet bestod af ni medlemmer, fordelt på fire juniorer og fem seniorer.
Der blev dagen igennem vadefisket fra forskellige pladser i Nor'et. Formiddagen bød på lidt blandet fiskeri, nogen mærkede intet, mens andre fangede op til fire gedder.
– Som en indlagt og velfortjent pause mødtes vi til middag hvor Jacob B. var vært med en god grillpølse. Desværre resulterede formiddagens fiskeri i en kroget tommefinger og en tur på skadestuen. Dermed var to mand sat ud af spillet til eftermiddagens fiskeri, fortæller Søren Andersen.
De sidste timers fiskeri blev prøvet på en ny plads, og to juniorer kom på banen med nogle gode fangster.
Derefter døde fiskeriet ud, og dagen sluttede med 17 gedder, med den største på 3,0 kilo.