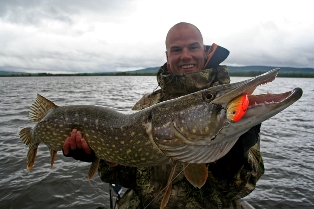 Christian Møller (Jokeren) med en flot gedde på 111 cm der faldt for en 4play i ambulance farverne. 20.05.08 – DE TO GEDDEFREAKS Christian Møller og Henrik S. Lund, som er kendte ansigter i bladet har gjort det igen. For nylig tog de en tur til Norge der resulterede i flere flotte gedder. De fangede otte over meteren med en fisk på 116 cm og 11,3 kilo på toppen. 19 cm 4Play Swim and Jerk i firetiger var den mest produktive agn fortæller de.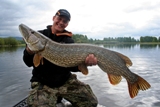 Henrik S. Lund med turens største på 11,3 kilo.
En del af turen blev videofilmet og kommer i en kommende Savage Gear DVD, som vi ser frem til at se når den er færdig. Vi er sikre på at drengene nok skal gøre alt de kan for at lande nogle grove gedder mens kameraet kører.