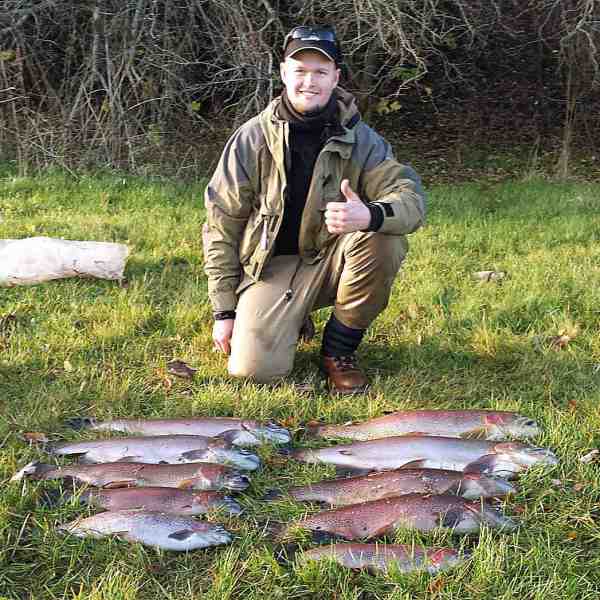 Mikkel Søndergaard fra Fjerritslev d. 30. november til konkurrence i Gøttrup Fiskepark og det var en givtig fiskedag.
– Jeg var til fiskekonkurrence i Gøttrup Fiskepark med en kammerat, fortæller Mikkel til Fisk&Fri. – Et par dage inden havde vi været ude og tjekke hvor fiskene gik, så på konkurrencedagen tog derud i rigtig god tid, og fik de rigtige pladser. I det første kast mistede jeg en fin fisk, men i anden kast lavede jeg en kæmpe fuglerede i min fireline øv øv. Inden jeg havde reddet det ud, fik min makker to fisk. Jeg flytter mig over på min egen lille plads mellem siv og træer, her fik jeg hurtigt et par fisk.
Da konkurrencen var slut kunne jeg gøre status med ti fisk. fem på fluestang og fem med bombarda. Den største vejede 5.11 kilo efterfulgt af to mere lige over fire kilo. Til sammen havde jeg 34 kilo fisk, hvilket sikrede mig 1. pladsen. Min makker fik også ti fisk og flot 3. Plads, slutter Mikkel.