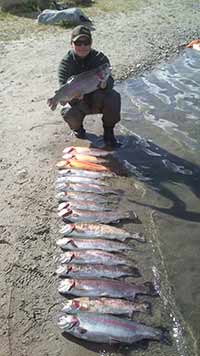 Casper Larsen med en lang stribe fisk fra Simons.2013-09-20 – CASPER LARSEN, Fisk & Fris Put and Take ekspert har den forgangne uge besøgt Simons Put and Take i gundsømagle.
Det mere ustadige vejr har betydet lavere vandtemperature og fiskene er begyndt at være i hug igen.
Således er det blevet til hele 64 fisk til Casper på de 3 ture hvor en lille nymfe fisket på fluestangen har været den foretrukne medicin.