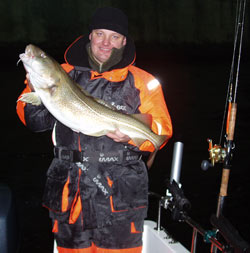 TIL TRODS FOR, at vinteren indtil videre har været ret blæsende, har fiskeriet efter torsk i specielt Store- og Langelandsbælt været usædvanligt godt – særligt hvad angår flotte mellemtorsk. På Jan & Bo's Lystfiskershops nytårstorsketure med Fio fra Nyborg, blev der, trods en del vind, fanget mange torsk fra 2 til 4,9 kilo. Også andre turbåde og private småbåde har haft rigtigt gode fangster i bælterne, når vejret har tilladt sejlads. Fra kysten er der ligeledes fanget rigtigt mange af de skæggede krabbeædere, bl.a. ved Nyborg og på det sydlige Langeland.
Masser af torsk
– Den 21 december tog jeg en tur på Storebælt i Michael Clausens båd, fortæller Fisk & Fri`s Niels Bilde. – Vi sejlede ud kl. 20.00, og på to en halv time fyldte vi en 128 liters igloboks med torsk op til 6 kg, men så blev jeg desværre syg med maven og vi måtte sejle ind. Men – det havde naturligt sat tankerne i gang, om at vi måtte af sted igen. Sidste tur var i fredags med afgang ud af Nyborg havn kl. 20.00.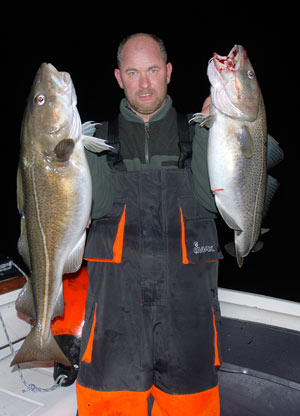 Der var godt med vind og strøm på to knob, så var vi sat på en prøve. Heldigvis havde vi taget min båd, og da vi kom i havn kl fire om natten, havde Michael Clausen fanget turens største torsk på 7,5 kg. Fangstmæssigt var det ikke optimalt, men vi klager ikke de første 22 torsk op til 4,7 kg, som Holger Borre fangede på en lille skrænt. Derefter fik vi 14 torsk – alle over tre kg som var på en af Michael´s gamle pladser. Den havde ikke holdt fisk i to år, men de to første fisk var over 5 og 7,5 kilo – og så kom der gang i stængerne. Turen der startede ud med, at der var for meget strøm ved broen, endte altså ud med at Micahel redde turen ved at føre os til et par af hans gamle pladser.
GREJNYT: Læs om det seneste gear her.