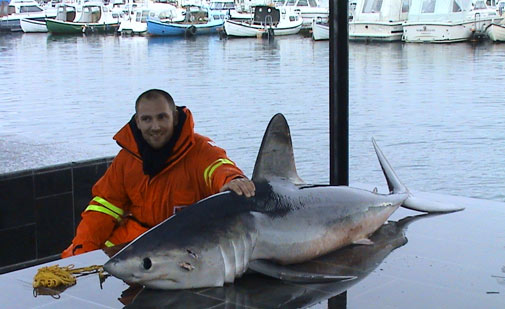 Denne mindre haj på lige under 100 kilo, var en af to flotte sildehajer der blev taget igår (03.02.09) på Færøerne.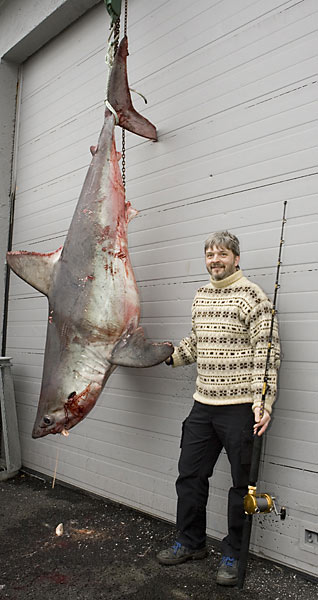 Johan Simonsen fører konkurrencen Shark Atlantic med denne haj på 223,5 kilo, som han fangede 3. februar. SÅ ER DER NYT FRA FÆRØERNE, skriver skipper Magni Blåstein i sin mail til Fisk & Fri, der blev sendt igår (03.02.09).
– Henrik Hansens sildehaj rekord på 222 kilo blev slået i dag, med en fisk på 223,5 kilo, fortæller han.
– Efter flere ugers dårligt vejr, var der en god fiskedag idag. To både var ude efter sildehaj og de fik en hver.
Den mindste vejede 96 kg og den største vejede 223.5 kilo de mistede også to andre!
– Hvis vi forbedrer rekorden for hvert år ender vi med verdensrekorden som er 230 kilo! – skriver Magni.
Fangeren til den største hedder Johan Simonsen, og han kæmpede alene med hajen i 2 timer. Han gaffede den alene og Magni beskriver ham forståelig nok som en sej gut.
Så nu er tre hajer landet i fiskekonkurrencen Shark Atlantic, og hvis det bliver godt vejr den kommende weekend får vi måske flere, slutter han.
Se mere på www.fishingwithblastein.com