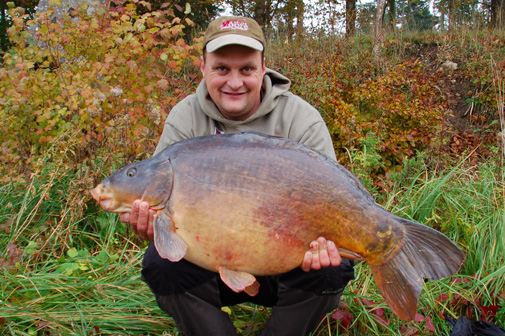 Lars B. Larsen har haft et forryggende fiskeri dette efterår, toppet med den flotte spejlkarpe på hele 14,5 kilo!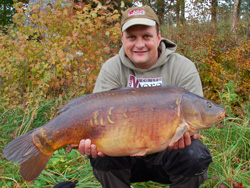 Denne fisk på 11,6 kilo kunne ikke stå for de lækre boilies.5.11.10 – OKTOBER er en af de absolut bedste måneder til karpefiskeriet. Selvom lufttemperaturen er blevet koldere agerer søernes vand som en buffer for temperaturfaldet, og det ved karperne, for så skal de for alvor til at spise sig fede så de er klar til den forestående vinter. Disse forhold har karpefiskeren Lars B. Larsen fra Roskilde udnyttet, da han fra fredag den 22. oktober til søndag den 24. oktober var på en regnfuld weekendtur i en større sø på Sjælland.
Allerede den først nat var der hele to gange bud efter den ivrige karperfiskers boilies fra CC Moore. Under et par ophold i regnen lykkedes det Lars at lande to rigtig fine spejlkarper på henholdsvis 14,5 kilo og 11,6 kilo.
Lørdag var der tørvejr, og Lars overvejede kort at tage hjem mens alt grejet var tørt. Men med nattens fangst taget i betragtning besluttede han sig – forståeligt nok – at blive endnu en nat ved søen. Det vidste sig dog at være en dårlig idé, for det stod ned i stænger hele natten og resten af turen gav ikke flere fisk.
Søndag kunne Lars køre velfornøjet hjem på trods af alt det våde grej, for det var nu besværet værd oven på to så fine fisk!