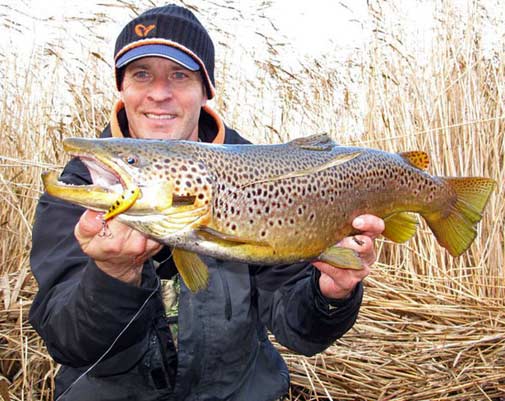 Mads Grosell med en smuk ørred fanget midt under aborrefiskeri i et lille fynsk vandløb. Fisken huggede på en lille Fry wobbler, og den blev genudsat efter et hurtigt selvudløserbillede.
SAVAGE GEAR produktudvikler Mads Grosell var i weekenden på visit i det fynske, og i den forbindelse blev det til lidt fiskeri i et sværttilgængeligt vand, hvor der har for vane at gemme sig nogle ganske store aborrer. Aborrerne var også med på legen, og i løbet af nogle timers fiskeri blev det til fisk på op til 1,5 kilo.
Dagens helt store overraskelse var dog, at vandet også skulle rumme nogle særdeles hugvillige ørreder. De huggede med stor voldsomhed på Mads Grosells nye Fry wobblere, og to af dem måtte en tur ind omkring bredden til afkrogning og behørig genudsætning. Den ene vejede omkring to kilo, mens den sidste – en fisk, der rejste en voldsom trykbølge i den lille å, og som huggede lige under stangspidsen – vejede omkring fire kilo.