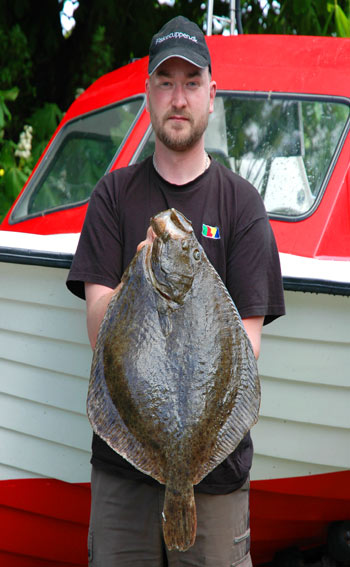 07-06-08 – MICHAEL OLESEN har været en tur i Kattegat for at fiske efter slethvar. De første to pladser gav kun nogle mindre pighvar og Michael skiftede derfor ivrigt plads. Det kunne godt betale sig, for kort tid efter var der et ordentligt hug på tobisen. Han troede først det var bundbid, men efter lidt sejtrækkeri, kunne han se den store fisk i vandet. Da den var halvvejs oppe, strøg den mod bunden igen, hvilket gentog sig yderligere to gange.
Kampen stod på i godt 10 minutter inden han kunne nette den store slethvar. Det udbrød vild jubel i båden og med god grund. slethvaren vejede 4,450(renset vægt) kilotunge slethvar, der målte 62 centimeter.
Klik her for at få inspiration til aftensmaden.